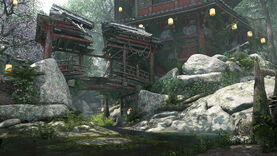 Forests are a common battlefield in Ashfeld, Valkenheim, and the Myre. They're natural lines of defense and can prove labyrinthine to invading forces.
The most hostile forest is most certainly the Samurai-themed Myre. It's an endless swamp that can leave warriors lost and disoriented. When fighting in the forest, be sure to get a proper lay of the land; it might save your life!
Forest is a Samurai inspired multiplayer map in For Honor. Variants of this map include Day - Ashfeld, Foggy Day - The Myre, and Dawn - Valkenheim.
Ad blocker interference detected!
Wikia is a free-to-use site that makes money from advertising. We have a modified experience for viewers using ad blockers

Wikia is not accessible if you've made further modifications. Remove the custom ad blocker rule(s) and the page will load as expected.