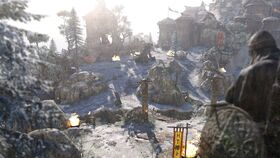 Vikings inhabited Valkenheim for many generations before taking to the sea to raid new lands. They have only recently returned and have rediscovered the ruins of their ancestors.
Altitude gives great advantage in battle. High forts are harder for attacking armies to reach, and those controlling them have a clear view of approaching dangers. These ruined forts are of great importance in the battles to come.
Ad blocker interference detected!
Wikia is a free-to-use site that makes money from advertising. We have a modified experience for viewers using ad blockers

Wikia is not accessible if you've made further modifications. Remove the custom ad blocker rule(s) and the page will load as expected.