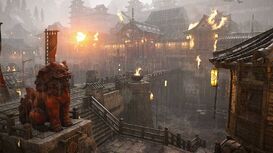 These cliff-side fortresses oversee large open areas featuring several catapult and ballista batteries.
They were built on cliffs that overlooked expansive tracts of strategically valuable open lands. They provide defense with heavy siege-engine barrage. A fortress features an outer perimeter where the bulk of the structure's defenses are located and an inner perimeter where several catapult and ballista batteries operate.
Ad blocker interference detected!
Wikia is a free-to-use site that makes money from advertising. We have a modified experience for viewers using ad blockers

Wikia is not accessible if you've made further modifications. Remove the custom ad blocker rule(s) and the page will load as expected.