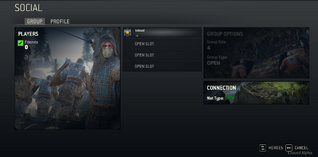 The Social window is where player will go to invite their friends to join a group within For Honor. To get to the Social options, go to Account from the main menu, then to Social. The Social window will show how many friends are currently online and allow players to invite up to three of them in a group. Once friends have been invited and have accepted, players can return to the play options and choose the game mode.
Note:During the closed Alpha, there were reports of this not always working on console, and not working at all on the PC version. Sometimes friends are not seen at all in-game but are visible in the launcher. For more updated information, visit the For Honor official forums or Reddit.
Ad blocker interference detected!
Wikia is a free-to-use site that makes money from advertising. We have a modified experience for viewers using ad blockers

Wikia is not accessible if you've made further modifications. Remove the custom ad blocker rule(s) and the page will load as expected.