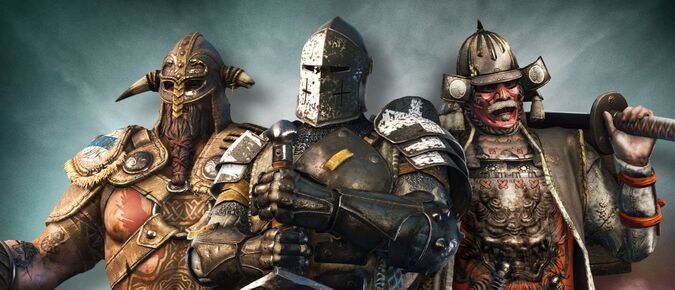 The Vanguard is one of four playable types of Heroes in For Honor. Wielding what could be called the symbol of their faction, they are well-balanced warriors with good attack and defense capabilities. While not as tanky as the Heavies or as fast as the Assassins, the Vanguard's jack-of-all-trades nature grants them the flexibility to put themselves on equal grounds against the more specialized Hero type. When together with allies, they can fulfill a multitude of roles including offensive, defensive, and disruption when the time calls for them to adapt.
Attributes
Edit
Most well-rounded of all types, the Vanguards are fittingly leaders of their faction. While they don't excel at any specific role, their simple but versatile kit allows them to stem into any role throughout battle. They are also meant to be beginner-friendly, thus will not feature anything too complex or overwhelming. However, this does not mean they are ill-suited for advance play, as they remain a viable pick among select best players in live periods.
Vanguards perform well in Dominion due to their efficiency in all key aspects of the mode: killing soldiers on the front line, dueling enemy heroes, and capturing/defending zones.
Heroes of the Factions
Edit
The Vanguard heroes in For Honor are: